A choker is a type of necklace that fits tightly around the neck. It is a fashionable accessory that has gained popularity in recent years.
Chokers can be made from various materials such as velvet, leather, or metal, and they come in different styles and designs to suit individual preferences. This trendy jewelry piece is often worn to add a touch of edginess or elegance to an outfit.
Whether you are attending a casual gathering or a formal event, a choker can be a versatile accessory to enhance your overall look. We will explore the different types of chokers available, as well as tips on how to style them and incorporate them into your wardrobe.
Choker Trends: Embracing Elegance In Style
Choker trends have gained significant popularity in recent years, embracing elegance with a vintage revival. Celebrities have played a pivotal role in paving the way for this fashion statement, evoking nostalgia for a glamorous bygone era. Modern chokers break traditional norms by experimenting with materials, textures, and bold designs, allowing individuals to express their unique style.
These versatile accessories have the power to elevate any outfit, from enhancing casual looks to transforming formal attire and adding a touch of glamour to special occasions. Chokers are suitable for all ages and genders, offering a range of lengths and styles to find the perfect fit.
Classic chokers are a timeless choice, while princess length options are graceful and flattering. Multi-layered chokers make a fashion statement, and those adorned with pendants add a touch of sophistication. The possibilities are endless with choker materials and embellishments, including delicate chains and gemstones, velvet and ribbons, lace and pearls, and statement pieces with crystals and beads.
Chokers adapt to various occasions, from black-tie events to casual outings, weddings, and even as thoughtful gifts. Styling tips and tricks can help make chokers the highlight, such as choosing the right neckline, pairing them with other jewelry pieces, balancing thickness with outfit details, and embracing layering for a bolder look.
Caring for chokers is essential to preserve their beauty, with proper storage, cleaning techniques, and professional care and maintenance recommendations. For those feeling creative, DIY choker projects allow for unique pieces that showcase personal touches and individual style. In conclusion, chokers embody glamour and elegance, offering a wide range of possibilities to enhance one's fashion choices.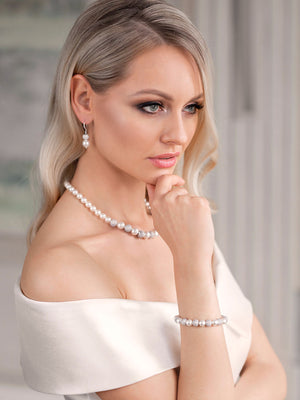 Credit: seraphinecreations.com
Frequently Asked Questions For Choker
Where Did Chokers Originate From?
Chokers have a long history, dating back to ancient civilizations like Ancient Egypt and the Sumerians. They were also popular during the French Revolution. In recent years, chokers have made a comeback as a fashionable accessory.
How Do You Style A Choker Necklace?
When it comes to styling a choker necklace, the options are endless. You can pair it with a casual t-shirt and jeans for a trendy look, or dress it up with a little black dress for a more elegant vibe.
Experiment with different lengths and materials to find your perfect style.
Are Chokers Suitable For All Neck Sizes?
Yes, chokers can be worn by people with different neck sizes. There are adjustable chokers that can be customized to fit any neck size, and there are also chokers available in different lengths. It's important to find the right fit that is comfortable and flattering for you.
Conclusion
Chokers have become a popular fashion trend, adding a touch of edginess to any outfit. Their versatility allows them to be styled with both casual and formal attire, making them a must-have accessory for any fashion enthusiast. The variety of materials, designs, and colors available ensures that there is a choker to suit every individual's personal style.
Additionally, chokers have enjoyed a resurgence in popularity due to their association with popular culture and celebrities. Their ability to effortlessly enhance the neckline and draw attention to the face and décolletage is unmatched. Whether you prefer a delicate, minimalist choker or a more bold and statement-making piece, the options are limitless.
So why not embrace this fashion trend and add a choker to your jewelry collection? With its timeless appeal and ability to elevate any look, the choker is here to stay.