Earn from home by starting a freelancing business and offering your skills and services online. With this approach, you can enjoy the flexibility of working from the comfort of your own home and have the opportunity to earn a steady income.
Whether you're a writer, designer, developer, or consultant, there are various platforms available that can connect you with potential clients. By building a strong online presence and delivering high-quality work, you can attract clients and generate a sustainable income stream.
It's important to continually improve your skills, stay updated with market trends, and provide exceptional customer service to ensure long-term success in the freelancing industry.
Identifying Profitable Online Ventures
Discover profitable online ventures that allow you to earn from the comfort of your home. Explore various opportunities to maximize your income without the need for a traditional office job.
E-Commerce: Setting Up An Online Store And Selling Products
Creating an online store can be a lucrative online venture. With the right products and marketing strategies, you can unlock the potential for significant profits. Here are some key points to consider when venturing into e-commerce:
Choose a niche: Find a specific market segment with a demand for products that interests you. Focusing on a niche allows you to specialize and build a unique brand.
Product sourcing: Decide whether you want to create your own products or leverage existing suppliers. Research manufacturers, wholesalers, or dropshipping options to find the best fit for your business.
Set up your online store: Choose a user-friendly e-commerce platform like Shopify or WooCommerce to build your store. Customize the design and layout to reflect your brand and enhance the customer experience.
Product catalog: Create appealing product listings that highlight the features, benefits, and unique selling points. Include high-quality images and detailed descriptions to entice potential buyers.
Payment and shipping options: Integrate secure payment gateways and offer various shipping methods to accommodate customers' preferences. Streamlining the checkout process is essential to enhance conversions.
Digital marketing: Implement effective digital marketing strategies such as search engine optimization (SEO), social media marketing, email marketing, and paid advertising to drive traffic to your store.
Customer service: Provide excellent customer support and promptly address any inquiries or issues. Building trust and cultivating positive relationships can lead to repeat customers and positive reviews.
Have A Profitable Journey In The E-Commerce World!
Affiliate Marketing: Promoting Products And Earning Commissions
Affiliate marketing offers the opportunity to earn commissions by promoting other companies' products. Here's what you need to know to succeed in affiliate marketing:
Select a niche: Choose an area that aligns with your interests and expertise. This allows you to effectively promote products to your target audience and establish credibility.
Find affiliate programs: Join reputable affiliate networks or individual company affiliate programs that offer products relevant to your niche. Research commission rates, cookie durations, and promotional materials available to maximize your earnings.
Content creation: Create valuable content, such as blog posts, reviews, or videos, that educates your audience and promotes the affiliate products you are affiliated with.
Drive traffic: Utilize various digital marketing methods to attract targeted traffic to your content. This can include SEO, social media marketing, email campaigns, and paid advertising.
Build trust: Focus on building trust with your audience by providing honest and insightful product recommendations. Be transparent about your affiliate partnerships to maintain credibility.
Track and optimize: Monitor the performance of your affiliate campaigns using tracking tools and analytics. Identify what works best and optimize your strategies accordingly for increased conversions.
Stay updated: Keep up with industry trends and product launches to stay relevant and offer the latest recommendations to your audience.
Affiliate marketing can provide a passive income stream, but it requires consistent effort and a customer-centric approach.
Online Courses: Creating And Selling Educational Content
Creating and selling online courses is a lucrative venture that allows you to share your knowledge and expertise. Here's how you can get started:
Choose a niche: Determine your area of expertise and the subject you want to teach. Consider your target audience's needs and ensure there is a demand for the topic.
Course content creation: Plan and create engaging course content using video lectures, downloadable resources, quizzes, and assignments. Structure the course in a logical and easy-to-follow manner.
Platform selection: Select a reliable online learning platform such as Udemy, Teachable, or Thinkific to host and sell your courses. Choose a platform that provides robust features like course management, marketing tools, and payment processing.
Pricing strategy: Research competitor pricing and consider the value you offer. Set a competitive price that reflects the quality and depth of your course content.
Marketing your course: Develop a marketing strategy to reach your target audience. Leverage social media, email marketing, content marketing, and partnerships with influencers or relevant communities to promote your courses.
Engage with students: Foster a supportive learning environment by actively engaging with your students. Provide timely feedback, answer questions, and create opportunities for discussion and interaction.
Continuous improvement: Regularly update your courses based on student feedback and industry developments. By staying ahead of the curve, you can maintain your reputation as a quality course provider.
Creating and selling online courses allows you to monetize your knowledge while helping others learn and grow.
Maximizing Income Through Freelancing
Discover the secrets to earning a lucrative income from the comfort of your own home through freelancing. Maximize your earning potential with flexible working hours and a wide range of freelancing opportunities available. Start your journey to financial freedom today.
Being able to earn from the comfort of your own home is a dream for many. With the rise of freelancing opportunities, it is now easier than ever to turn your skills and expertise into a lucrative source of income.
In this section, we will explore three popular areas of freelancing that can help you maximize your income: writing and content creation, graphic design and creative works, and web development and coding.
Writing And Content Creation: Offering Services As A Freelance Writer
Freelance writing is a fantastic way to earn money from home, particularly if you have a passion for words and a natural flair for writing. Here are some key points to consider:
Research and identify your niche: Determine the specific area of writing that you excel in, be it blog posts, web content, technical writing, or creative writing.
Build a strong portfolio: Showcase your expertise by creating a portfolio that highlights your best work. This will help clients understand your writing style and capabilities.
Establish your rates: Research the market to determine the appropriate rates for your level of experience and the type of writing services you offer.
Network with potential clients: Utilize online platforms such as LinkedIn, freelance job boards, and social media to connect with potential clients and establish professional relationships.
Continuously improve your skills: Stay updated with industry trends and new writing techniques to remain competitive and provide high-quality content to your clients.
Graphic Design And Creative Works: Providing Design Services
If you have a creative eye and a knack for design, freelance graphic design can be a highly profitable venture. Consider the following points:
Develop a versatile portfolio: Demonstrate your range of skills by showcasing a diverse collection of design projects, including logo designs, branding materials, website layouts, and marketing collateral.
Master essential design tools: Become proficient in popular design software such as Adobe Photoshop, Illustrator, and InDesign to efficiently create stunning visuals for your clients.
Understand client requirements: Take the time to comprehend your clients' vision and requirements, ensuring your designs align with their brand identity and goals.
Stay updated on design trends: Keep a finger on the pulse of the ever-evolving design industry to provide cutting-edge and visually appealing creations.
Cultivate client relationships: Nurture positive relationships with your clients to foster trust and encourage repeat business in the future.
Web Development And Coding: Offering Coding And Programming Services
In today's digital age, web development and coding skills are in high demand. Here's how you can make the most of your coding expertise:
Expand your coding knowledge: Stay up-to-date with the latest programming languages and frameworks to remain competitive in the ever-changing tech landscape.
Showcase your past projects: Develop a portfolio with examples of websites or applications you have developed, highlighting your problem-solving abilities and attention to detail.
Customize solutions for clients: Work closely with clients to understand their specific needs and create tailor-made websites or applications that align with their goals.
Optimize for search engines: Implement SEO best practices to ensure the websites you develop are easily discoverable and rank well in search engine results.
Provide ongoing technical support: Offer post-development support and maintenance to your clients, demonstrating your commitment to their success.
Freelancing offers endless opportunities to earn income from home, and specializing in writing and content creation, graphic design and creative works, or web development and coding can significantly maximize your earnings. With dedication, continuous improvement, and effective marketing, you can turn your freelancing endeavors into a successful and rewarding career.
Utilizing The Power Of Social Media
Discover the potential of social media to earn money from the comfort of your own home. Benefit from the power of platforms like Facebook, Instagram, and Twitter to establish an online business and generate a sustainable income.
Social media has become an integral part of our lives, connecting us to the world and allowing us to express ourselves in unique ways. However, did you know that you can also earn money from the comfort of your own home by utilizing the power of social media?
In this blog post, we will explore three effective ways to monetize your social media presence: influencer marketing, YouTube monetization, and Instagram shoppable posts.
Influencer Marketing: Collaborating With Brands For Sponsored Posts
Influencer marketing has gained significant traction over the years, with brands partnering with social media influencers to promote their products or services. By becoming an influencer, you can leverage your following to secure collaborations and earn income. Here's how you can get started:
Build your social media presence by consistently creating high-quality content that resonates with your target audience.
Identify your niche and develop a unique personal brand that sets you apart from other influencers.
Reach out to brands within your niche and propose collaborations for sponsored posts.
Negotiate fair compensation for your services based on your audience size and engagement rate.
Create genuine and engaging content that showcases the brand's products or services in a creative way.
Clearly disclose sponsored content to maintain transparency and trust with your audience.
Influencer marketing can be a lucrative way to monetize your social media presence while collaborating with brands you admire.
Youtube Monetization: Creating And Sharing Engaging Videos
YouTube has revolutionized the way we consume video content, and it offers excellent opportunities for individuals to earn money through their channels. To successfully monetize your YouTube channel, follow these steps:
Consistently create high-quality and engaging videos that cater to your target audience's interests.
Grow your subscribers and viewership by promoting your videos on other social media platforms and optimizing your content for search engines.
Meet the YouTube Partner Program requirements, including having at least 1,000 subscribers and 4,000 watch hours within the past 12 months.
Apply for the YouTube Partner Program and enable monetization on your eligible videos.
Monetization options include displaying ads, utilizing channel memberships, and enabling super chat and super stickers during live streams.
Engage with your audience by responding to comments, hosting live streams, and collaborating with other creators to increase your reach.
With dedication and creativity, YouTube monetization can provide a sustainable income stream while doing what you love.
Instagram Shoppable Posts: Selling Products Directly On Instagram
Instagram has evolved from a photo-sharing platform to a robust e-commerce destination. Through Instagram shoppable posts, you can now sell products directly on the platform, making it easier than ever to monetize your social media presence. Here's how you can take advantage of this feature:
Convert your personal or business Instagram account to a business account to access the shopping feature.
Ensure your account meets the eligibility criteria, including complying with Instagram's commerce policies.
Set up a Facebook Shop connected to your Instagram business account and upload your products.
Tag your products in your posts, stories, or the Explore tab, allowing users to click on the product tags for more details and purchase.
Engage with your audience by providing valuable content and showcasing your products in an authentic way.
Leverage Instagram's marketing tools, such as paid promotions and influencer partnerships, to expand your reach and drive sales.
With Instagram shoppable posts, you can seamlessly integrate e-commerce into your social media strategy, opening up new avenues for earning from home.
By utilizing the power of social media, you can transform your online presence into a source of income. Whether through influencer marketing, YouTube monetization, or Instagram shoppable posts, these strategies offer exciting opportunities to monetize your passion and creativity. Start exploring these avenues today and unlock the untapped potential of your social media success.
Leveraging The Potential Of Dropshipping
Looking to earn from home? Discover the potential of dropshipping and leverage it to start your own online business. Enjoy the freedom of working from home while making a profit.
Dropshipping has become an increasingly popular way for individuals to earn a living from the comfort of their own homes. By leveraging the potential of dropshipping, entrepreneurs can avoid the costs and logistical challenges associated with traditional retail models. In this blog post, we will explore how you can tap into this lucrative opportunity and build a profitable online business.
So let's get started with the first step: finding profitable niches.
Finding Profitable Niches: Identifying Niche Products To Sell
Conduct thorough market research to identify niche markets with high demand and low competition.
Consider targeting specific demographics or interests, such as eco-friendly products or sustainable fashion.
Look for products that are not easily available in local retail stores, providing you with a competitive edge.
Choose niche products with high profit margins to ensure that your business is financially sustainable.
Keep an eye on emerging trends and consumer preferences to stay ahead of the curve and attract a loyal customer base.
Now that you have identified a profitable niche, it's time to set up your online store and create a user-friendly website.
Setting Up An Online Store: Building A User-Friendly Website
Choose a reliable e-commerce platform that offers the necessary features for your online store, such as easy product listing and secure payment options.
Select a visually appealing yet professional website design that reflects your brand's identity and resonates with your target audience.
Optimize your website's loading speed to enhance user experience and reduce bounce rates.
Ensure that your website is mobile-friendly, as an increasing number of consumers prefer to shop on their smartphones and tablets.
Implement effective search engine optimization (SEO) strategies to improve your website's visibility on search engine results pages (SERPs).
Now that your online store is up and running, it's essential to streamline your order fulfillment process to enhance efficiency and customer satisfaction.
Streamlining Order Fulfillment: Automating The Dropshipping Process
Utilize dropshipping automation tools to simplify order management, inventory tracking, and product shipping.
Establish strong relationships with reliable suppliers to ensure prompt and accurate fulfillment of customer orders.
Implement an effective customer support system to handle inquiries, returns, and product-related issues promptly.
Monitor and analyze your order fulfillment metrics to identify areas for improvement and optimize your business operations.
Continually optimize your product offerings and streamline your supply chain to stay competitive in the ever-evolving e-commerce landscape.
By following these steps and leveraging the potential of dropshipping, you can establish a successful online business and earn a steady income from the comfort of your home. So what are you waiting for? Start exploring profitable niches, set up your online store, and streamline your order fulfillment process to embark on your journey to success.
Harnessing The Potential Of Online Surveys And Microtasks
Achieve financial stability by leveraging the power of online surveys and microtasks, earning from the comfort of your home. Unlock the potential of these convenient opportunities to supplement your income and improve your work-life balance.
In today's digital age, the internet offers numerous opportunities to earn money from the comfort of your own home. Online surveys and microtasks have emerged as popular ways to supplement your income or even earn a living entirely remotely. By sharing your opinions, completing small online tasks, and providing feedback on websites and apps, you can tap into the potential of these avenues.
Let's explore how you can make the most of paid surveys, microtasks and crowdsourcing, and user testing to earn money online.
Paid Surveys: Participating In Market Research Studies
Paid surveys provide a platform for individuals like you to express your opinions and get rewarded for your time. Companies are constantly seeking valuable insights to improve their products and services, making these surveys a win-win situation. Here's what you need to know about participating in paid surveys:
Survey opportunities: Online market research companies connect you with a variety of surveys tailored to your interests and demographics. These surveys cover a wide range of topics, including brand preferences, consumer behavior, product feedback, and more.
Earn cash or rewards: Depending on the platform, you can earn cash or redeemable points for completing surveys. Some websites also offer gift cards, vouchers, or sweepstakes entries that give you a chance to win exciting prizes.
Flexible schedule: One of the advantages of participating in paid surveys is the flexibility it offers. You can complete surveys at your own pace, fitting them into your schedule whenever it's convenient for you.
Join reputable survey panels: To ensure a positive experience, join reputable survey panels that have a track record of fair compensation, timely payments, and user-friendly interfaces. Conduct some research before signing up for any platform to avoid wasting your time.
Microtasks And Crowdsourcing: Completing Small Online Tasks
Microtasks and crowdsourcing provide opportunities to earn money by completing small online tasks for individuals or businesses. These tasks require little time and effort, making them ideal for those looking to earn a little extra income. Here are the key aspects to consider:
Variety of tasks: Microtasks can include data entry, image tagging, content moderation, transcription, and more. These tasks are usually broken down into smaller parts that can be completed quickly.
Task platforms: Various online platforms connect businesses and individuals seeking help with microtasks. Popular platforms include Amazon Mechanical Turk, Clickworker, and Microworkers, among others.
Payment structure: Microtasks often come with fixed payment rates or depend on the complexity and time required to complete them. It's essential to understand the payment structure before accepting any task to ensure it aligns with your expectations.
Reliable platforms: When engaging in microtasks, choose reputable and reliable platforms that have a transparent reputation system and ensure fair compensation for your efforts.
User Testing: Providing Feedback On Websites And Apps
User testing plays a crucial role in the development of websites and apps, ensuring they are user-friendly, intuitive, and error-free. By participating in user testing, you can earn money while providing valuable feedback. Here's what you need to know:
Website and app testing: User testing involves visiting websites or using apps and providing feedback on various aspects such as ease of navigation, functionality, design, and overall user experience. Your feedback helps businesses improve their digital offerings.
Testing platforms: Numerous online platforms connect businesses with individuals willing to provide user testing feedback. These platforms facilitate the process, including task assignment, submission, and payment. Some popular user testing platforms include UserTesting, Userlytics, and TryMyUI.
Screen recording and feedback: As a user tester, you may be asked to record your screen while interacting with a website or app and provide spoken or written feedback. This feedback helps businesses understand user behavior and identify areas for improvement.
Earn per test: User testing typically offers a per-test compensation structure. The payment may vary depending on the complexity and duration of the test. Be sure to review the payment structure on each platform to ensure it meets your expectations.
With paid surveys, microtasks, and user testing, you can harness the potential of online opportunities to earn money from the comfort of your home. By sharing your opinions, completing small online tasks, and providing valuable feedback, you can make a meaningful impact while earning a living remotely.
Start exploring these avenues and take advantage of the digital world's potential to boost your income.
Generating Passive Income Through Online Investing
Learn how to generate passive income from the comfort of your home through online investing. Maximize your earnings and achieve financial freedom by leveraging the power of digital platforms. Start investing today and build a sustainable income stream for the future.
Are you tired of the traditional 9-to-5 job and looking for ways to earn money from the comfort of your own home? Online investing is a great option for generating passive income. With a few clicks and some smart decisions, you can start growing your wealth without even leaving your couch.
In this blog post, we will explore three popular online investment options that can help you achieve financial freedom.
Stock Market Trading: Buying And Selling Stocks For Profit
Investing in the stock market has been a tried and tested method of generating passive income for decades. Whether you're a seasoned investor or a beginner, the stock market offers numerous opportunities to grow your money. Here are some key points to consider:
Diversify your portfolio: Invest in a mix of stocks from different industries to minimize risks.
Research and analysis: Stay updated with the latest market trends and analyze the performance of stocks before making your investment decisions.
Long-term strategy: Consider adopting a long-term approach rather than chasing short-term gains in the stock market.
Peer-To-Peer Lending: Investing In Loans For Interest Returns
If you're looking for an alternative investment option, peer-to-peer lending offers a unique opportunity to earn passive income by lending money directly to borrowers. Here are the key benefits and considerations:
Higher returns: Enjoy higher interest rates compared to traditional savings accounts.
Risk management: Diversify your investments among multiple borrowers to reduce the risk of default.
Research and vetting: Take time to evaluate the borrower's creditworthiness and assess their ability to repay the loan.
Real Estate Crowdfunding: Investing In Real Estate Projects
Real estate crowdfunding platforms have gained popularity in recent years, offering investors the chance to participate in real estate projects with smaller investments. Here's what you need to know:
Accessibility: With real estate crowdfunding, you can invest in properties with a smaller capital compared to traditional real estate investments.
Diversification: Spread your investments across different properties and locations to minimize risk.
Professional management: Benefit from the expertise of professional developers and property managers who handle the day-to-day operations.
Online investing provides a unique opportunity to generate passive income from the comfort of your home. Whether you choose to invest in the stock market, peer-to-peer lending, or real estate crowdfunding, remember to conduct thorough research, diversify your investments, and adopt a long-term strategy.
Start your journey towards financial freedom today!
Exploring The World Of Digital Products
Discover the lucrative world of digital products and earn from the comfort of your home. Explore various opportunities to generate income online through engaging and high-demand digital products.
In today's fast-paced and technologically advanced world, earning an income from the comfort of your own home has become not only possible but also incredibly lucrative. With the rise of digital products, the opportunities are endless. Whether you have a knack for writing, designing software, or sharing your expertise, there are various avenues to explore.
This article delves into the three exciting digital product options available to you: creating and selling e-books, developing and selling software, and creating and selling online courses.
Creating And Selling E-Books: Writing And Publishing Digital Books
With the advent of e-readers and the increasing popularity of online marketplaces, self-publishing has become a viable option for aspiring authors. Showcase your writing skills and capitalize on your creativity with e-books. Here are some key points to consider:
Find a niche: Identify a specific topic or area of interest that aligns with your expertise and target audience.
Thorough research: Conduct in-depth research to ensure your content is accurate, informative, and valuable.
Engaging writing style: Craft your e-books with a captivating writing style that grabs readers' attention and keeps them hooked.
Eye-catching covers: Invest in professional cover design to catch the potential readers' eyes amidst the competition.
Self-publishing platforms: Take advantage of online platforms like Amazon Kindle Direct Publishing, Smashwords, or Lulu to easily self-publish your work.
Marketing and promotion: Utilize social media, email marketing, and content writing to promote your e-books and attract a wider audience.
Developing And Selling Software: Designing Software For Sale
If you possess a passion for technology and possess coding skills, developing and selling software can be a rewarding venture. Here are the key points to consider:
Identify a problem to solve: Identify a gap in the market or a common problem that you can address through your software.
Choose the right platform and programming language: Select the platform and programming language that aligns with your goals and target audience.
User-friendly interface: Design an intuitive and user-friendly interface that makes your software easy to navigate and use.
Regular updates and improvements: Continuously update and enhance your software to meet the changing needs of your customers.
Market research: Conduct thorough market research to identify your target audience and tailor your software accordingly.
Secure distribution channels: Choose secure distribution channels such as app stores or your own website to sell your software.
Creating And Selling Online Courses: Sharing Expertise Through Courses
Are you passionate about a specific field or possess specialized knowledge? Consider creating and selling online courses to share your expertise with others. Here are some key points to consider:
Identify your expertise: Determine the area in which you excel and have valuable knowledge to offer.
Define your target audience: Understand the specific demographic you want to teach and cater your course content to their needs.
Organize your curriculum: Create a structured and comprehensive curriculum that guides your students through the learning process.
Engaging multimedia content: Incorporate videos, quizzes, and interactive elements to make your course more engaging and effective.
User-friendly learning platform: Choose a user-friendly and reliable online learning platform, such as Udemy or Teachable, to host and sell your courses.
Continuous support: Provide ongoing support and engagement with your students to ensure they have a positive learning experience.
Embark on your digital product journey and explore the world of e-books, software development, and online courses. With determination, creativity, and the right marketing strategies, you can turn your passions into a profitable source of income from the comfort of your own home.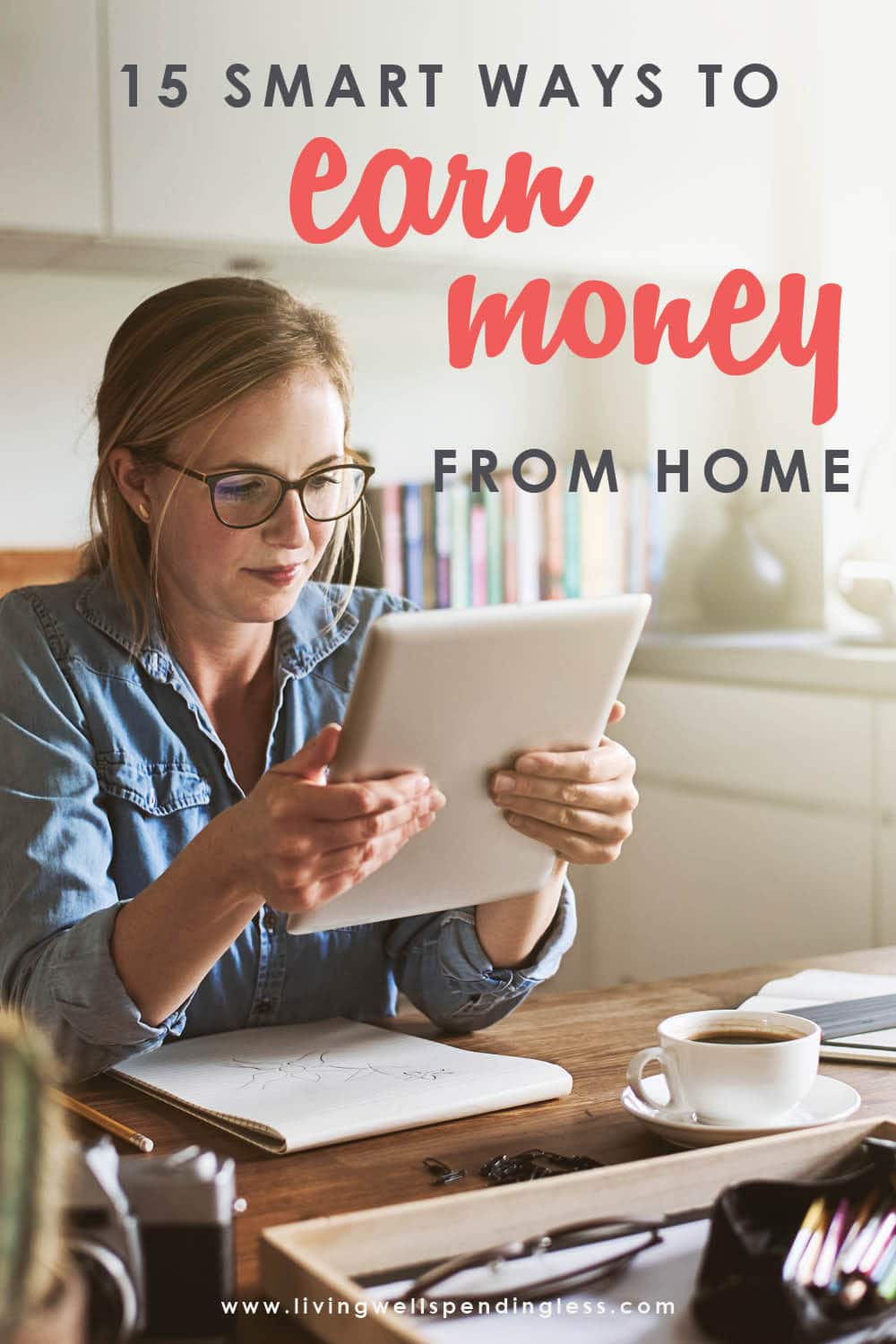 Credit: www.livingwellspendingless.com
Monetizing A Blog Or Website
Monetize your blog or website and earn a steady stream of income from the comfort of your own home. Explore various strategies to maximize your online presence and capitalize on the potential of your platform.
Blogs and websites offer excellent opportunities to earn money from the comfort of your own home. By implementing various monetization strategies, you can turn your platform into a profitable venture. Here are three effective methods to consider:
Advertisements And Sponsorships: Partnering With Brands For Ad Revenue
Displaying advertisements on your blog or website is a popular way to generate income. Ad networks such as Google AdSense or Media.net allow you to showcase relevant ads and earn revenue based on clicks or impressions.
Seek out sponsorships from brands that align with your niche. Collaborating with sponsors provides an additional stream of income while allowing you to promote products or services relevant to your audience. Negotiate partnerships that include sponsored content, banner ads, or product reviews.
Affiliate Marketing: Promoting Products For Commission Earnings
Join affiliate programs offered by companies within your niche. As an affiliate, you earn a commission for every sale made through your referral link. Choose products or services that resonate with your audience and write informative reviews or create engaging content that incorporates your affiliate link.
Utilize various affiliate marketing networks such as Amazon Associates, ShareASale, or Commission Junction to access a wide range of products and optimize your earning potential.
Selling Digital Products: Offering E-Books, Courses, Or Other Digital Products
Create and sell digital products tailored to your area of expertise. This may include e-books, online courses, exclusive content, or even access to a private community. Packaging your knowledge into digital products allows you to monetize your expertise while providing value to your readers or visitors.
Set up an online store on your website or utilize platforms like Gumroad or Teachable to handle payments and distribution of your digital products.
With these monetization strategies in place, your blog or website can become a lucrative income source. Be sure to continually create engaging content, build a loyal audience, and explore additional opportunities to diversify your revenue streams.
Optimizing And Monetizing Online Platforms
Discover how to optimize and monetize online platforms to earn from home. Learn effective strategies to boost your online presence and generate income through your digital endeavors. Unlock the potential of your online platform and start earning from the comfort of your own home.
With the rise of work-from-home opportunities, optimizing and monetizing online platforms has become an attractive option for many. Whether you're a blogger, a website owner, or a content creator, there are various strategies you can implement to make money from the comfort of your own home.
In this section, we'll explore three popular methods: Search Engine Optimization (SEO), Google AdSense, and the YouTube Partner Program.
Search Engine Optimization (Seo): Improving Website Visibility
Relevant keywords: Research and utilize relevant keywords to improve your website's organic search visibility.
Quality content creation: Create high-quality, informative content that engages your audience and drives organic traffic.
On-page optimization: Optimize your website's title tags, headings, meta descriptions, and URLs to increase its visibility on search engines.
User experience: Enhance the user experience by improving site speed, mobile-friendliness, and navigation.
Backlinking: Build a strong network of quality backlinks through guest posting, collaborations, and outreach efforts.
Google Adsense: Placing Ads On Websites For Income
Ad placement: Strategically place ads on your website to minimize disruption and maximize click-through rates.
Ad types: Choose from various ad formats such as display ads, matched content, and in-feed ads to attract advertisers and increase revenue.
Ad customization: Customize the appearance and style of the ads to seamlessly integrate them into your website's design.
Ad targeting: Optimize ad targeting to display relevant ads based on your website's content and user preferences.
Ad optimization: Continuously analyze ad performance, experiment with different placements and formats, and optimize ad blocks for higher earnings.
Youtube Partner Program: Earning From Ad Revenue On Videos
Original content creation: Create unique and engaging videos that cater to your target audience and stand out from the crowd.
Consistency and quality: Regularly upload high-quality videos to maintain viewer interest and increase subscriber count.
Audience engagement: Encourage likes, comments, and shares to boost engagement and increase visibility on YouTube.
Ad monetization: Enable monetization on your YouTube channel to start earning revenue from ads displayed on your videos.
Channel growth: Promote your channel through social media, collaborations, and cross-promotion to attract more viewers and subscribers.
By incorporating these strategies, you can optimize your online platforms for improved visibility and monetize them effectively. Whether it's through SEO techniques, Google AdSense, or the YouTube Partner Program, these methods offer viable opportunities to earn from the comfort of your home.
So, why not explore these options and start generating income online today?
Scaling And Diversifying Income Streams
Discover how to scale and diversify your income streams from the comfort of your own home. Explore lucrative opportunities to earn money without the need for a traditional job, allowing you to take control of your financial future.
There's no denying that earning from home has become increasingly popular in recent years. With the rise of remote work and the availability of online platforms, individuals are finding innovative ways to generate income streams from the comfort of their own homes.
One effective strategy for maximizing your earning potential is to scale and diversify your income streams. By expanding into different ventures, streamlining operations, and enhancing your skills and knowledge, you can create a sustainable and dynamic online business.
Building Multiple Income Streams: Expanding Into Different Ventures
Explore various online business opportunities such as e-commerce, affiliate marketing, or starting your own blog.
Consider offering freelance services in your area of expertise.
Monetize your hobbies or skills by creating digital products, online courses, or webinars.
Tap into the sharing economy by renting out assets like rooms on platforms such as Airbnb or vehicles on ride-sharing apps.
Participate in online surveys, testing websites, or becoming a virtual assistant to diversify your income sources.
Expanding into different ventures allows you to leverage multiple income streams simultaneously. By diversifying your sources of income, you can minimize risk and maximize your earning potential.
Automating Online Business Processes: Streamlining Operations
Utilize automation tools for tasks like email marketing, social media scheduling, and customer relationship management (CRM) to save time and increase efficiency.
Implement e-commerce platforms with integrated payment gateways and inventory management systems to streamline your online sales process.
Optimize your website with search engine optimization (SEO) techniques to attract organic traffic and boost conversions.
Outsource repetitive tasks or hire virtual assistants to free up your time for more strategic endeavors.
Leverage chatbots and artificial intelligence to provide 24/7 customer support and enhance user experience.
By streamlining your operations, you can focus on income-generating activities and scale your online business effectively.
Investing In Professional Development: Enhancing Skills And Knowledge
Stay updated with the latest trends and developments in your industry through online courses, webinars, or attending virtual conferences.
Join industry-related forums, communities, or social media groups to learn from experts and network with like-minded individuals.
Seek mentorship or coaching to gain valuable insights and guidance for your online business.
Acquire new skills or certifications that are in demand in the digital marketplace.
Continuously invest in self-improvement and expand your knowledge base to stay competitive in the evolving online landscape.
Enhancing your skills and knowledge not only increases your expertise but also opens up new opportunities for generating income from home. It improves your marketability and sets you apart from the competition.
To effectively earn from home, it's crucial to scale and diversify your income streams. By expanding into different ventures, streamlining operations through automation, and investing in professional development, you can create a sustainable and successful online business. Embrace the flexibility and potential of remote work while constantly adapting to the ever-changing digital landscape.
Frequently Asked Questions On Earn From Home
How Can I Earn Real Money From Home?
Earn real money from home by freelancing, starting an online business, doing remote work, or taking online surveys.
How Can I Make $100 A Day?
To make $100 a day, consider freelancing, starting a small business, or joining a gig economy platform.
How To Earn $1,000 Per Day At Home?
To earn $1,000 per day from home, focus on high-income skills like freelancing or starting an online business.
How Can I Make $1,000 A Week From Home?
To make $1,000 a week from home, consider freelancing, online tutoring, or starting an e-commerce store.
Conclusion
Earning from home has become a viable option for many individuals. The flexibility and convenience it offers have made it an attractive choice. Whether you choose to start your own online business, take up freelancing, or engage in remote work, there are numerous opportunities to generate income from the comfort of your own home.
With the advancement of technology and the internet, there are countless ways to leverage your skills and expertise to earn money online. From affiliate marketing to content writing, graphic design to virtual assistance, the possibilities are endless. It's important to remember that success doesn't happen overnight, and it does require dedication and hard work.
However, with the right mindset and consistent effort, you can create a successful and fulfilling career from home. So, seize the opportunity, take the leap, and start your journey towards financial freedom from the comfort of your own home.