Home Gardening involves starting a backyard garden by determining the climate zone, choosing what to grow, finding the ideal location, acquiring basic gardening tools, testing the soil, and creating a garden bed. It is a popular activity for beginners to grow their own plants and vegetables at home.
With the right knowledge and tools, anyone can enjoy the benefits of home gardening, such as having fresh produce, improving outdoor aesthetics, and connecting with nature. Whether you have a small balcony or a spacious backyard, home gardening offers a rewarding and fulfilling experience.
Start your home gardening journey today and enjoy the many joys and benefits it brings.
Benefits Of Home Gardening
Home gardening offers a range of benefits for both mental and physical health. Gardening is known to reduce stress and anxiety, allowing individuals to relax and unwind in a natural and peaceful environment. Additionally, home gardening provides the opportunity to grow fresh and organic produce, enhancing the nutritional value of meals and reducing reliance on store-bought groceries.
This can also lead to cost savings, as homegrown produce eliminates the need to purchase expensive organic items. By actively engaging in gardening activities, individuals can improve their physical fitness and mobility as well. Whether it's planting, weeding, or harvesting, these tasks require movement and contribute to an active lifestyle.
Overall, home gardening is a rewarding and fulfilling hobby that positively impacts both the mind and body.
Choosing A Location For Your Garden
When it comes to choosing a location for your home garden, there are a few factors to consider. First, assess the available space to determine how much area you have to work with. Next, check the sunlight and shade conditions in that area.
Some plants require full sun, while others thrive in partial shade. Additionally, consider the soil quality and drainage. Different plants have different soil requirements, so it's important to ensure that the soil in your chosen location is suitable. Good drainage is also crucial to prevent waterlogging and root rot.
By carefully assessing these factors, you can choose the best location for your home garden and set it up for success.
Selecting The Right Plants For Your Garden
Selecting the right plants for your garden involves understanding your climate and growing zone. Choose plants that align with your gardening goals. Consider factors such as maintenance, space, and yield. By doing so, you can ensure a successful and thriving garden.
Preparing Your Garden Space
When preparing your garden space, the first step is to clear the area of weeds and debris. This will ensure a clean canvas for your plants to thrive. Next, it's important to prepare the soil through tilling and adding compost.
This will provide the necessary nutrients for your plants to grow. If necessary, consider installing raised beds or containers. These can help with drainage and provide a controlled environment for your plants. By following these steps, you can create a healthy and thriving garden space.
Starting Seeds Or Buying Seedlings
Starting seeds or buying seedlings is an important decision in home gardening. When it comes to germination, there are various tips and techniques to consider. Choosing the right type of seeds or seedlings is crucial for successful growth. Additionally, caring for young plants and ensuring their healthy development is essential.
It's important to provide them with the necessary nutrients, water, and sunlight. Moreover, monitoring their growth and protecting them from pests and diseases is vital. In this article, we will explore the different methods and strategies for starting seeds or buying seedlings in home gardening.
By following these tips and techniques, you can have a thriving garden full of healthy plants.
Planting And Transplanting
Proper spacing and depth for different plants is crucial when planting and transplanting in home gardening. It ensures that each plant has enough room to grow and receive the necessary nutrients. When transplanting seedlings into the garden, techniques such as gently loosening the roots and placing them at the appropriate depth should be followed.
This helps minimize transplant shock and increases the chances of successful growth. After planting, watering and fertilizing are essential to provide the plants with the necessary moisture and nutrients. They should be watered regularly, depending on the plant's requirements, and fertilized according to the specific needs of each plant.
By following these techniques, home gardeners can ensure healthy growth and a thriving garden.
Essential Gardening Tools And Equipment
Home gardening requires essential tools and equipment for effective maintenance and cultivation. Basic hand tools like the trowel, rake, and pruners are necessary for planting and weeding. Additionally, a watering can or hose with a spray nozzle is indispensable for regular watering.
It is also important to protect yourself with gloves and sunscreen as you work in the garden. These tools ensure that you have the necessary equipment to create and maintain a flourishing garden. With the right tools, you can enjoy the benefits of home gardening and create a beautiful outdoor space.
So, gather your gardening tools and get ready to nurture your plants and watch them thrive in your very own garden.
Maintaining Your Garden
Maintaining your garden involves proper watering and irrigation techniques. Water your plants regularly to keep them hydrated. Use techniques such as drip irrigation or a soaker hose to conserve water and ensure thorough watering. Additionally, practice proper pruning and deadheading to promote healthy growth and prevent the spread of diseases.
Trim back overgrown branches and remove spent flowers to encourage new blooms. When managing pests and diseases, opt for organic methods. Use companion planting, natural predators, or homemade remedies to control pests. Avoid using chemical pesticides that can harm beneficial insects and the environment.
By following these practices, you can maintain a thriving garden without relying on harmful chemicals.
Harvesting And Enjoying Your Homegrown Produce
Harvesting and enjoying your homegrown produce is a rewarding experience in home gardening. Knowing when to harvest different types of vegetables and fruits is crucial to ensure maximum flavor and nutrition. Storing and preserving your harvest allows you to enjoy your homegrown produce long after the growing season.
Exploring recipes and finding ways to enjoy your homegrown produce adds excitement and variety to your meals. From fresh salads to homemade sauces, the possibilities are endless. By utilizing your own homegrown produce, you can take pride in knowing exactly where your food comes from and enjoy the fruits of your labor.
So, roll up your sleeves, get your hands dirty, and start harvesting and enjoying the delicious results of your home gardening endeavor.
Troubleshooting Common Gardening Problems
Common gardening problems can easily be identified and treated with the right approach. Pests and diseases need to be properly identified in order to apply the appropriate treatment. Nutrient deficiencies in plants can be resolved by understanding their specific requirements and providing the necessary supplements.
Overwatering or underwatering can cause issues, but these can be addressed by adjusting watering schedules and ensuring proper drainage. It's important to stay vigilant and address problems as soon as they arise to maintain a healthy and thriving garden. By following these guidelines, home gardeners can overcome common gardening problems and enjoy the beauty and bounty of their plants.
Continuing Your Gardening Journey
Continuing your gardening journey can be an exciting and rewarding experience. One way to expand your garden space is by joining local gardening communities or clubs. These groups provide a platform for sharing knowledge, ideas, and even swapping plants or seeds.
Another option is to experiment with new plants. This can be done by furthering your gardening knowledge through courses or workshops. Learning about different plant varieties and their requirements will enable you to try out new and interesting additions to your garden.
By continuously expanding your garden space and experimenting with new plants, you can keep your gardening journey fresh and engaging. So, why not take the next step and explore the wonderful world of home gardening further?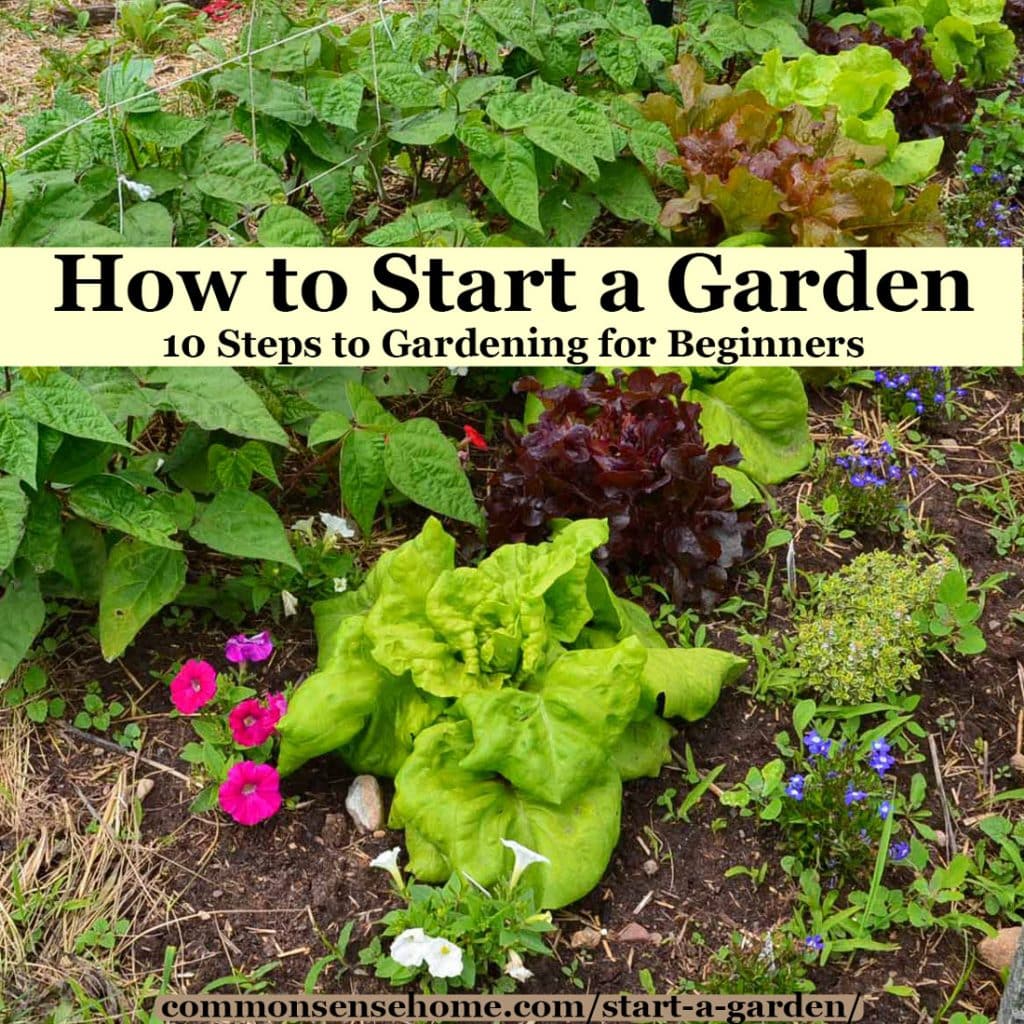 Credit: commonsensehome.com
Frequently Asked Questions For Home Gardening
How Do I Start A Garden At Home?
To start a garden at home, follow these steps: 1. Determine your climate zone. 2. Decide what to grow. 3. Choose the ideal garden location. 4. Acquire basic gardening tools. 5. Test your soil. 6. Make your garden bed. 7. Decide whether to grow from seed or transplant seedlings.
8. Plant your seeds or seedlings with care. Remember, starting a garden takes planning and preparation. Take your time and enjoy the process!
How Do I Start Gardening For Beginners?
To start gardening as a beginner, follow these steps: 1. Determine your climate zone. 2. Decide what to grow. 3. Choose an ideal garden location. 4. Acquire basic gardening tools. 5. Test your soil. 6. Prepare your garden bed. 7.
Decide to grow from seed or transplant seedlings. 8. Plant your seeds or seedlings carefully.
What Is A Home Garden?
A home garden is a small garden that you can grow at home to grow plants for food or decoration.
Is Gardening Worth It Financially?
Gardening can be financially worth it, but it depends on factors like the size of the garden and the types of plants grown.
Conclusion
Home gardening is a rewarding and sustainable hobby that can benefit individuals and the environment. By following simple steps like determining your climate zone, choosing the right plants for your garden, and acquiring basic gardening tools, anyone can start their own backyard garden.
Testing your soil and creating a suitable garden bed will ensure healthy plant growth. Whether you choose to grow from seeds or transplant seedlings, proper care and attention will lead to successful gardening. Home gardening provides a source of fresh and organic produce, reduces food mileage, and promotes a green and sustainable lifestyle.
Additionally, gardening is a great way to connect with nature, relieve stress, and improve mental well-being. So, why not start your own home garden today and enjoy the numerous benefits it has to offer!