Hoop earrings are circular-shaped jewelry pieces that frame the face and are worn through ear piercings. Earlobe attachment is commonly used to secure hoop earrings.
These accessories are available in various sizes and materials, offering versatility to match any style or occasion. Whether you prefer small, delicate hoops for an understated look or large, statement hoops for a bold fashion statement, hoop earrings are a timeless accessory that adds an elegant touch to any outfit.
With their enduring popularity and wide range of options, hoop earrings are a must-have addition to any jewelry collection.
1. Hoop Earrings Through The Ages
Hoop earrings have been a symbol of status and style throughout history. They have origins dating back to ancient civilizations. The design of hoop earrings has evolved over the years, with various sizes and materials being used. From gold to silver, hoop earrings have been crafted to suit different fashion trends.
These timeless accessories have been adorned by both men and women, adding a touch of elegance to any ensemble. Hoop earrings have stood the test of time and continue to be a popular choice in jewelry today. Whether worn as a fashion statement or as a way to express individuality, hoop earrings hold a special place in the world of accessories.
Their versatility and iconic design make them a favorite among fashion enthusiasts, proving that this classic piece will never go out of style.
2. Hoop Earrings: Endless Style Options
Hoop earrings offer a wide range of style options, thanks to their various sizes and diameters. From classic gold and silver hoops to statement pieces adorned with gemstones and pearls, there is something for everyone. You can also find hoop earrings with intricate designs and textures, adding a unique touch to your outfit.
The versatility of hoop earrings allows you to switch up your style effortlessly, whether you're going for a casual or elegant look. With endless options to choose from, hoop earrings are a must-have accessory that can instantly elevate any outfit.
3. Hoop Earrings For Every Occasion
Hoop earrings are versatile accessories that effortlessly elevate any outfit. Perfect for casual and everyday wear, they add a touch of elegance and flair to your look. When attending formal events, choose sophisticated hoop earrings that exude timeless beauty and refinement.
In work and professional settings, opt for sleek and polished hoop earrings for a chic yet professional appearance. And for parties and celebrations, have fun with hoop earrings adorned with playful and festive elements. From large hoops to small ones, there is a hoop earring for every occasion.
These accessories make a statement and showcase your personal style, whether you prefer minimalistic designs or bold and intricate ones. So, have fun experimenting with different hoop earring styles and effortlessly create stunning looks for any event.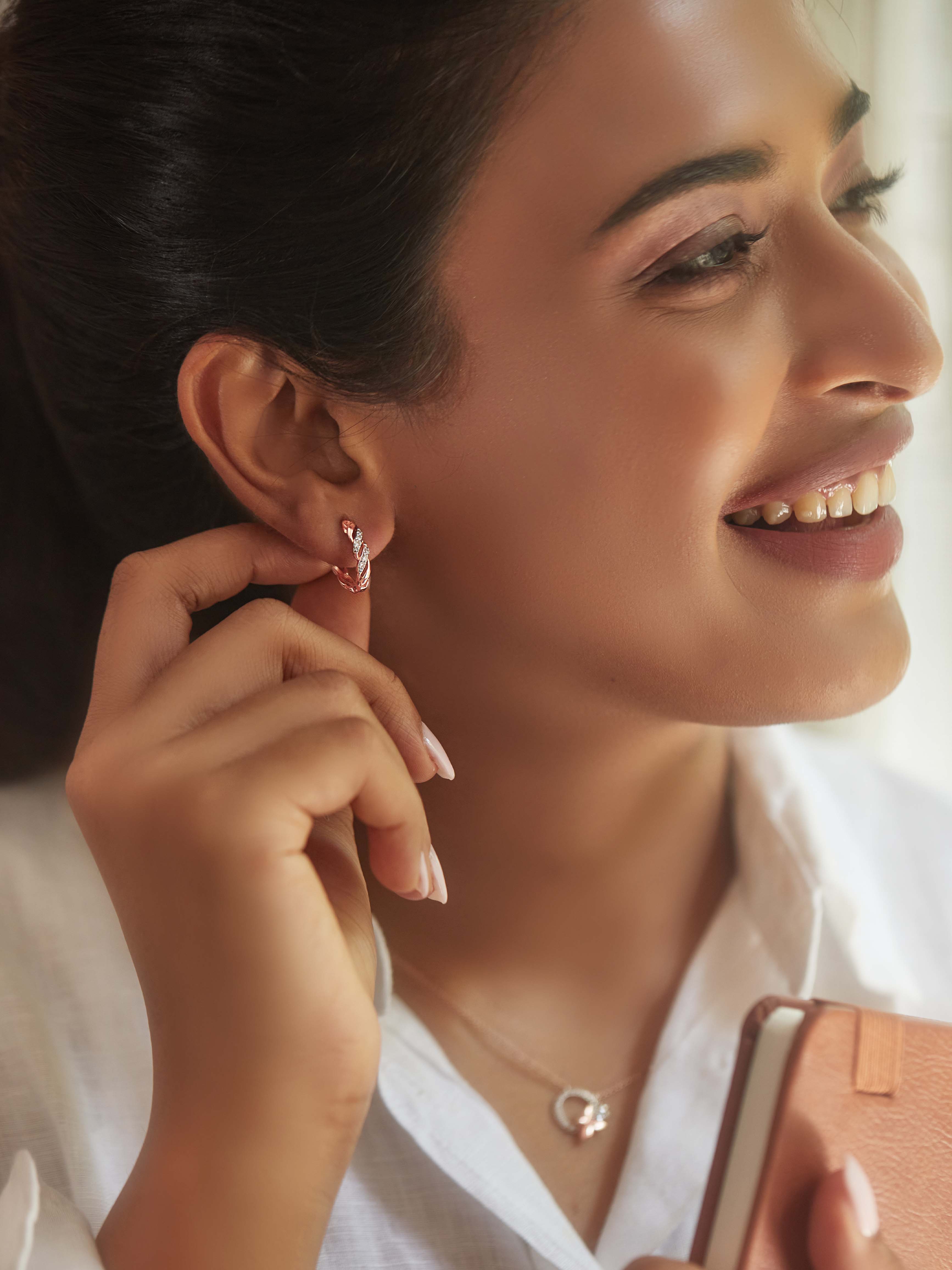 Credit: www.caratlane.com
4. How To Choose The Perfect Hoop Earrings
Choosing the perfect hoop earrings involves considering your face shape and features. Begin by understanding the different materials used for hoop earrings and their durability. This will guide you in selecting the right pair that suits your style and preference.
Whether you want to make a bold statement or prefer a more delicate look, hoop earrings can complement your outfit and enhance your appearance. Experiment with different sizes and styles to find the perfect match for each occasion. By considering your face shape, outfit, and personal style, you can confidently rock hoop earrings and add a touch of elegance to your overall look.
So go ahead, have fun exploring the fascinating world of hoop earrings and find the pair that speaks to your unique personality.
5. Caring For Your Hoop Earrings
Hoop earrings are a timeless accessory that can instantly elevate any outfit. To ensure their longevity and shine, it's important to follow some simple cleaning and maintenance tips. First, store your hoop earrings in a jewelry box or pouch to prevent tangling and damage.
When cleaning them, gently wipe them with a soft cloth or use a jewelry cleaner specifically formulated for metals. Avoid using harsh chemicals or abrasive materials that can scratch the surface. Additionally, make sure to remove your hoop earrings before engaging in any physical activities or coming into contact with water, as excessive moisture can cause corrosion.
By taking these steps, you can keep your hoop earrings looking fabulous for years to come.
6. Creating Stylish Looks With Hoop Earrings
Hoop earrings are versatile accessories that can create stylish looks. Pair them with various neckline styles to enhance your outfit. Mix and match hoop earrings with other jewelry pieces to add a touch of personal flair. You can also use hoop earrings as a statement piece to elevate any ensemble.
Their sleek and circular design makes them a timeless and trendy choice. Whether you prefer larger or smaller hoops, there are endless possibilities for incorporating them into your wardrobe. From casual to formal occasions, hoop earrings can effortlessly elevate any outfit.
So, don't shy away from experimenting with different styles and sizes of hoop earrings to create your own unique and fashionable looks.
7. Hoop Earrings: A Symbol Of Empowerment And Expression
Hoop earrings have long been regarded as a symbol of empowerment and self-expression. Their cultural significance spans various communities and traditions, making them a versatile accessory for personalization and customization. Hoop earrings allow individuals to embody their unique style and showcase their personality.
Whether it's a larger hoop for a bold statement or a smaller one for a subtle touch, these earrings provide a platform for self-expression. From intricate designs to simple, classic hoops, there are endless options to choose from, catering to individual preferences and tastes.
By wearing hoop earrings, individuals can embrace their cultural heritage and express their individuality, using this accessory as a form of self-expression and empowerment. So, next time you put on a pair of hoop earrings, remember the significance they hold in conveying your distinct style and confidence.
8. Do'S And Don'Ts Of Wearing Hoop Earrings
Hoop earrings are a versatile and stylish accessory that can elevate any outfit. When it comes to styling hoop earrings for different occasions, there are a few dos that you should keep in mind. First, choose the right size of hoops for the occasion.
For a casual look, opt for smaller hoops, while larger hoops can make a bold statement for a formal event. Second, consider the shape of your face when choosing hoop earrings. Oval faces can wear any size and shape, while round faces look best with larger hoops and angular faces pair well with smaller hoops.
Lastly, experiment with different materials and embellishments to add variety to your hoop earring collection. Avoiding these common mistakes when wearing hoop earrings will ensure that you always look chic and put-together. So, embrace this timeless accessory and let your hoop earrings make a fashionable statement wherever you go.
9. The Future Of Hoop Earrings: Trends And Innovations
Hoop earrings have come a long way and continue to evolve with emerging trends. Technology has played a significant role in advancing hoop earring designs. From smart features to innovative materials, the future holds exciting possibilities. One trend to watch out for is the incorporation of sustainable materials, such as recycled metals and eco-friendly alternatives.
Another emerging trend is customizable hoop earrings, where wearers can personalize their accessories with unique charms or interchangeable elements. Furthermore, geometric and asymmetrical hoop designs are gaining popularity, adding a modern twist to the classic silhouette. Additionally, technology-enabled features like LED lights or built-in sensors are pushing the boundaries of hoop earring innovation.
As we embrace the future, hoop earrings will remain a fashionable and versatile accessory, constantly adapting to our changing tastes and lifestyles.
Frequently Asked Questions Of Hoop Earrings
What Are Hoop Earrings Made Of?
Hoop earrings can be made from various materials such as gold, silver, stainless steel, or even plastic. The choice of material depends on the wearer's preference and budget. It's important to choose high-quality materials to ensure durability and avoid any allergic reactions.
How To Choose The Right Size Of Hoop Earrings?
Choosing the right size of hoop earrings depends on several factors. Consider your face shape and features, as well as your personal style and occasion. Generally, smaller hoops are more versatile and suitable for everyday wear, while larger hoops make a bold statement.
Experiment with different sizes to find what suits you best.
Are Hoop Earrings Suitable For All Face Shapes?
Yes, hoop earrings can be flattering for all face shapes. However, the key is to choose the right size and shape that complements your features. For example, round faces can opt for longer and angular hoops to create balance, while angular faces can choose larger hoops to soften their features.
Experimenting with different styles will help you find the perfect fit for your face shape.
How To Clean And Maintain Hoop Earrings?
To clean hoop earrings, gently wipe them with a soft cloth or use a mild jewelry cleaner. Avoid using harsh chemicals or abrasive materials that may damage the earrings. After cleaning, store them in a jewelry box or pouch to protect them from scratches.
Regularly inspect the earring clasps to ensure they are secure and functioning properly.
Conclusion
Hoop earrings are timeless accessories that have been loved by women for centuries. They are versatile, stylish, and can instantly elevate any outfit. From small and delicate hoops to large and statement-making ones, there is a style to suit every preference and occasion.
Hoop earrings can be worn casually for a chic everyday look or dressed up for a night out. They add a touch of femininity and glamour to any ensemble. Additionally, hoop earrings are available in a variety of materials, making them accessible to people with different budgets.
Whether you prefer gold, silver, or even colorful hoop earrings, there is something for everyone. So, if you're looking to add a trendy and fashionable accessory to your jewelry collection, look no further than hoop earrings. Their classic appeal and timeless beauty will never go out of style.