A lawn is a cultivated area of land with short grass and other durable plants, used for aesthetic and recreational purposes. It is commonly found in gardens and is maintained with a lawn mower.
Grass refers to the plant itself, while a lawn is the designated area where grass is grown. The term "turf" is also used to describe grass. The word "lawn" originated from "launde," which referred to a grassy woodland clearing. Lawn maintenance used to be limited to the wealthy, with livestock or servants using scythes as the only available lawn mowers.
A lawn is an integral part of landscaping and adds beauty to residential and commercial properties.
Why Caring For Your Lawn Is Important
Caring for your lawn is essential as it adds value to your property and enhances its appearance. A well-maintained lawn improves the overall aesthetic appeal of your home and creates a welcoming environment. Additionally, a lush green lawn provides numerous benefits.
It acts as a natural air purifier, absorbing pollutants and releasing fresh oxygen. A healthy lawn also helps to prevent soil erosion and filters rainwater, reducing the risk of flooding. Moreover, a well-cared-for lawn provides a safe space for children and pets to play and relax.
It can also reduce noise pollution by absorbing sound and create a cooling effect, reducing temperatures during hot weather. In conclusion, maintaining a vibrant lawn not only contributes to the beauty of your home but also offers a range of advantages for both you and the environment.
Choosing The Right Grass For Your Lawn
Choosing the right grass for your lawn depends on several factors. One important consideration is the climate. Different grass types thrive in different climates, so it's essential to choose a grass that can withstand the weather conditions in your area.
Another factor to consider is the condition of your soil. Some grasses prefer well-drained soil, while others can tolerate clay or sandy soil. Additionally, you should consider the amount of sunlight your lawn receives. Some grasses need full sun, while others can grow in shaded areas.
Lastly, think about how you plan to use your lawn. If you have children or pets who will be playing on the grass, you'll want to choose a durable grass type. By considering these factors, you can select the best grass option for your lawn and ensure its long-term health and beauty.
Essential Lawn Care Practices For A Healthy Lawn
A well-maintained lawn requires proper care techniques to keep it healthy and vibrant. One essential practice is mastering proper mowing techniques. By mowing at the right height and frequency, you can promote optimal lawn health. Another crucial aspect is effective watering strategies.
Providing the right amount of water at the right time ensures a lush, green lawn. Additionally, understanding the importance of lawn aeration is key. Aeration allows the soil to breathe and promotes better nutrient absorption. Lastly, controlling weeds and pests is vital for maintaining a healthy lawn.
Regular weed control and pest management prevent damage and maintain the overall health of your lawn. By implementing these essential lawn care practices, you can enjoy a beautiful and thriving lawn throughout the year.
Proper Lawn Fertilization Techniques
Proper lawn fertilization techniques play a crucial role in maintaining a healthy and lush lawn. Understanding the different types of lawn fertilizers is essential for effective fertilization. There are various options available, including organic and synthetic fertilizers, each with its benefits.
To ensure optimal results, it is important to follow best practices when fertilizing your lawn. This includes applying the fertilizer at the appropriate time and in the right quantities. It is also important to choose a fertilizer formula that matches the specific needs of your lawn.
Regularly watering and mowing your lawn after fertilization will help the nutrients penetrate the soil and promote even growth. By following these guidelines, you can achieve a beautiful, vibrant lawn that enhances the overall appeal of your property.
Maintaining A Weed-Free Lawn
Maintaining a weed-free lawn is essential for a pristine and attractive outdoor space. Understanding the common types of weeds and knowing how to identify them is the first step in effective weed control. Some common types of weeds include dandelions, crabgrass, and clover.
Dandelions can be identified by their bright yellow flowers and distinctive seed heads. Crabgrass is recognized by its numerous leaf blades and low-growing habit. Clover is characterized by its trifoliate leaves and white or pink flowers. To keep weeds from invading your lawn, it is important to implement preventive measures.
Regularly mowing your lawn at the proper height, watering deeply but infrequently, and fertilizing appropriately can help promote a healthy and dense lawn that is more resistant to weed growth. Additionally, manually removing weeds as soon as they appear and using targeted herbicides can be effective weed control methods.
By following these practices, you can maintain a weed-free lawn that is the envy of the neighborhood.
Dealing With Lawn Pests And Diseases
A lawn, also known as part of a garden, is a soil-covered area planted with grasses and other durable plants like clover. It is maintained at a short height using a lawn mower and is used for aesthetic and recreational purposes.
When it comes to dealing with lawn pests and diseases, it is important to be able to identify common issues. Whether you choose to use natural remedies or chemical treatments, both have their pros and cons. However, it is always advisable to take preventive measures to protect your lawn from pests and diseases.
Regularly inspecting your lawn, practicing good lawn care practices, and properly managing irrigation can go a long way in maintaining a healthy lawn. Remember, proper identification and timely action can help ensure your lawn stays green and beautiful.
Seasonal Lawn Care Tips
A lawn is a well-maintained area of land covered with short grasses and durable plants like clover. It is often used for aesthetic and recreational purposes and is commonly associated with gardens. In spring, it is important to prepare your lawn for the growing season by removing debris, aerating the soil, and applying fertilizer.
During the hot summer months, you must focus on maintaining the health and appearance of your lawn by watering it properly, mowing regularly, and controlling weeds and pests. In fall, your priority should be to prepare your lawn for winter by fertilizing and overseeding, which promotes root growth.
Finally, in winter, it is crucial to winterize your lawn by protecting it from freezing temperatures and preparing it for the upcoming spring. Remember to follow these seasonal lawn care tips for a healthy and vibrant lawn all year round.
Troubleshooting Common Lawn Problems
Brown patches and bare spots on your lawn can be caused by various factors such as waterlogging, pet urine, or fungal diseases. To address this issue, ensure proper drainage, water your lawn evenly, and treat any fungal infections with appropriate fungicides.
Uneven growth and thinning grass may be due to improper mowing techniques, lack of nutrients, or compacted soil. To tackle these problems, mow your lawn at the recommended height, regularly fertilize with appropriate nutrients, and aerate the soil to improve its structure.
A yellow or discolored lawn can indicate issues like nutrient deficiencies, improper watering, or pest infestation. Identify the underlying problem by conducting a soil test, adjust your watering schedule accordingly, and treat any pests using organic or chemical methods. Regular maintenance and proper care are crucial for a healthy and vibrant lawn.
Keep an eye out for any signs of problems and take proactive steps to maintain the overall health of your lawn.
Enhancing The Appearance Of Your Lawn
Maintaining a visually stunning lawn involves more than just regular mowing. Creative lawn designs and landscaping ideas can greatly enhance the overall appearance of your lawn. Incorporating ornamental plants and flowers adds beauty and a pop of color to your outdoor space.
Consider using different types of grasses and ground covers to create texture and diversity. Additionally, practical tips for maintaining a picture-perfect lawn include proper watering techniques, regular weed control, and aerating the soil to promote healthy root growth. Properly fertilizing your lawn and addressing any pest or disease issues promptly also contribute to its overall health and beauty.
By implementing these strategies, you can transform your lawn into a captivating and vibrant outdoor space.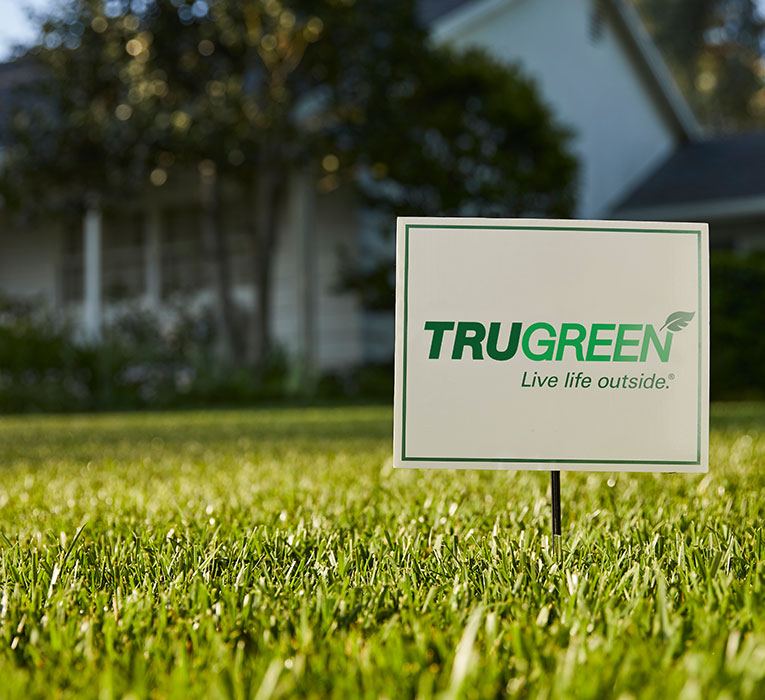 Credit: www.trugreen.com
Consistent Lawn Care Maintenance Schedule
To maintain a consistently healthy lawn, it's essential to develop a personalized care routine. Start by investing in the necessary tools and equipment, such as a lawnmower, weed trimmer, and fertilizer spreader. These items will help you efficiently tackle the tasks involved in maintaining your lawn.
Next, create a schedule to track and stay on top of your lawn care tasks. This schedule should include regular mowing, watering, fertilizing, and aerating. By following a consistent maintenance routine, you will ensure that your lawn remains vibrant and free of weeds and pests.
Additionally, monitoring your lawn's health and adjusting your care routine as needed will help prevent any potential issues and promote a lush and beautiful lawn all year round.
Frequently Asked Questions Of Lawn
Is Lawn And Grass The Same Thing?
Grass refers to the plant itself while a lawn is the area at the front or back of a house or any other land where grass is grown.
Why Is Grass Called Lawn?
Grass is called lawn because it refers to the area covered with grass in a garden or residential land.
What Is The Simple Definition Of Lawn?
A lawn is a short, grass-covered area of land used for recreational and aesthetic purposes in gardens.
How Much Does Lawn Care Cost In Austin?
The average cost of lawn care in Austin varies, so it's best to contact local lawn care services for an accurate estimate.
Conclusion
Maintaining a well-manicured lawn is crucial for both aesthetic and recreational purposes. A lawn, which consists of grasses and other durable plants like clover, is usually kept at a short height with the help of a lawn mower. It serves as an integral part of a garden, adding beauty and tranquility to any outdoor space.
Proper lawn care is essential, and it involves activities like mowing, fertilizing, and watering to ensure the grass remains healthy and vibrant. Additionally, understanding the different types of grass and their specific needs is crucial for successful lawn maintenance. Whether you're a homeowner or a business owner, maintaining a healthy lawn sets a positive impression for visitors and customers alike.
It creates a welcoming environment and enhances the overall curb appeal of your property. Investing in professional lawn care services can provide significant benefits, as experts have the knowledge and experience to keep your lawn in its best condition. By adhering to proper lawn care practices, you can enjoy the beauty and functionality of your outdoor space for years to come.